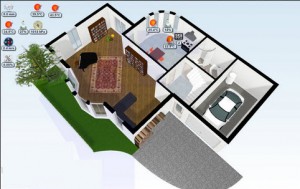 After several tries not really successful I finally find a site that allows to build house plan to import it into domoticz. It is very easy to use, no setup on you personal computer, easy to learn and above all free! Floorplanner.com will allow you to quickly add domoticz 2d or 3d pretty house plan.
I put you some screenshots found from one of the demo models.
Edition mode :
3D View :
2D View :
This gives the following in domoticz:
I made a brief setup of my devices on the plane but you can get something really nice in a short time.
My domoticz I made real plan of my house. It took about one hour to have a very nice plan. I do not want everyone to know how it is into my house 🙂 (one is never too careful) then I will not be posting here!
This is always some problem with the free release in general. Here, you can make a plan with several floors biut you have to release it to public… (as the free option in github.com).
The solution I have found to deal with this is that when you have a plan that satisfies you, save you all with scrennshots and delete your sketch on the site …
To conclude, as any free version there are limitations but I still find that the editor is really well done and easy to handle. Also rendering both 2D or 3D is really good…
PS: This post is not sponsored, I have no royalties by publishing 🙂 I just want to share with you this great tool.